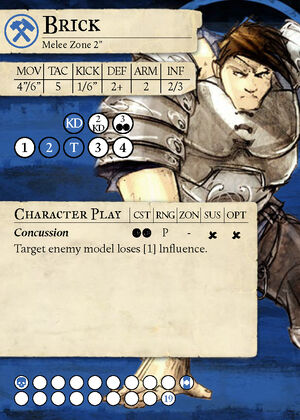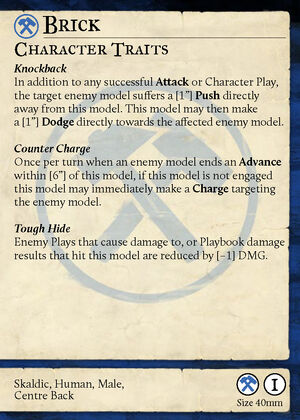 Brick is the imposing centre back found playing for the Mason's team. The Unstoppable Juggernaut considers the game an exercise in smashing his way through the opposition with a mighty blow from his knuckledusters. Few have the ability or even the will to try and stop him.
---
CHARACTER PLAYS Edit
Concussion  || (2 GB) || P Range
Target enemy model loses [1] Influence.
Edit
CHARACTER TRAITS Edit
Knockback
In addition to any successful Attack or Character Play, the target enemy model suffers a [1"] Push directly away from this model. This model may then make a [1"] Dodge directly towards the affected enemy model. Edit
Counter Charge
Once per turn when an enemy models ends its Advance within [6"] of this model, if this model is not engaged this model may immediately make a Charge targeting the enemy model. Edit
Tough Hide
Enemy Plays that cause damage to, or Playbook damage results that hit this model are reduced by [-1] DMG.
Edit