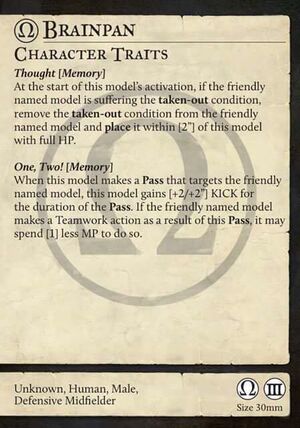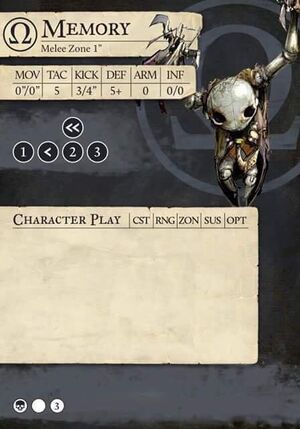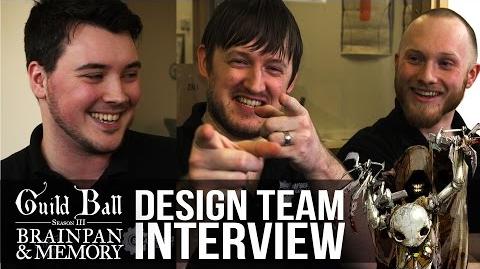 As a skilled puppeteer, Brainpan has a knack for manipulation, which he masterfully applies to the pitch. Using his puppet Memory, Brainpan brings the Mortician's ball game to terrifying new heights. With rapid passes and bursts of damage, the grim duo is capable of fearsome feats of teamwork that embody any coach's worst nightmare.
WHO SHOULD RECRUIT THE MASTER PUPPETEER & HIS PUPPET?
Are you a veteran Mortician coach looking to increase your goal threat? Then Brainpan & Memory are the players you've been waiting for!
Their dynamic playstyle will not only help you control the ball more but the puppet can also dish out terrifying pain—field the pair with Graves for more bloodshed or Bonesaw for total ball domination.
To maximize the strategic potential of your Morticians rosters and play even more mind games with your opponents, be sure to recruit this dynamic, creepy duo!
RELEASED: 24th February 2017
---
CHARACTER PLAYS Edit
I'm Open! (2) || 6" Range || OPT
Target friendly model immediately makes a Pass, which targets this model, without spending Influence. Edit
Puppet Show (1) || 8" Range
Target friendly [Memory] model may make an Attack without spending Influence, or make a [2"] Dodge. Edit
Pulling the Strings (1) || 8" Range || OPT
Target friendly [Memory] model may make a Kick without spending Influence. Edit
CHARACTER TRAITS Edit
Thought [Memory]
At the start of this model's activation, if the friendly named model is suffering from the taken-out condition, remove the taken-out condition from the friendly named model and place it within [2"] of this model with full HP. Edit
One, Two! [Memory]
When this model makes a Pass that targets the friendly named model, this model gains [+2/+2"] KICK for the duration of the Pass. If the friendly named model makes a Teamwork action as a result of this Pass, it may spend [1] less MP to do so. Edit
CHARACTER PLAYS Edit
CHARACTER TRAITS Edit
Benched [Brainpan]
This model cannot be selected for a team but is automatically added when the named friendly model is selected for a team. This model does not count towards your maximum team size allowance.
Edit
Control Strings
At the start of each other friendly Guild model's activation, this model may make a [2"] Dodge. Edit
Inanimate Object
This model does not have an activation. This model does not generate VP when it suffers the taken-out condition. Edit