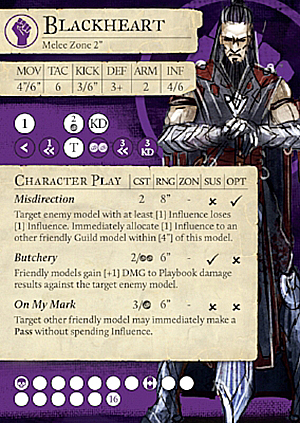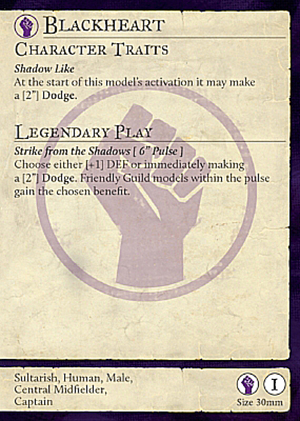 Blackheart was the ruthless Pirate King of the sea, terrorising every Sovereign State of the Empire of the Free Cities. The day he gave up the life at sea was a bloody one indeed, slaughtering the entire crew of his ship to ensure its safe location remained a secret until he needed her again. He now makes his fortune through Guild Ball, murdering anybody who becomes between him and more wealth, or getting one of his crew to do the deed for him.
---
CHARACTER PLAYS Edit
Misdirection (2) || 8" Range || OPT
Target enemy model with at least [1] Influence loses [1] Influence. Immediately allocate [1] Influence to another friendly Guild Model within [4"] of this model.
Edit
Butchery (2 / 2 GB) || 6" Range || Sustaining
Friendly models gain [+1] DMG to Playbook damage results against the target enemy model.
Edit
On My Mark (3 / 1 GB) || 6" Range
Target other friendly model may immediately make a Pass without spending Influence.
Edit
CHARACTER TRAITS Edit
Shadow Like
At the start of this model's activation it may make a [2"] Dodge. Edit
LEGENDARY PLAY Edit
Strike from the Shadows [6" Pulse]
Choose either [+1] DEF or immediately making a [2"] Dodge. Friendly Guild models within the pulse gain the chosen benefit.
Edit
Community content is available under
CC-BY-SA
unless otherwise noted.