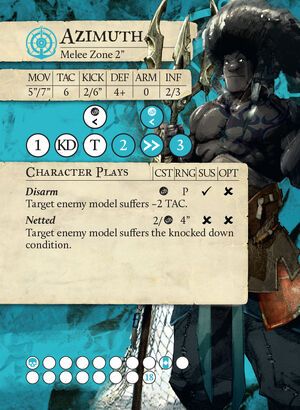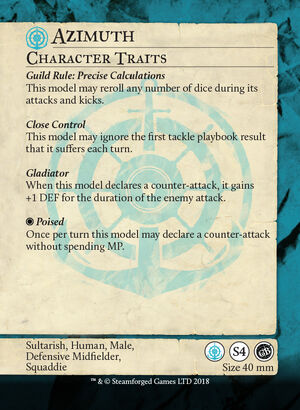 Released : The Navigator's Guild: Tales of the New World ( 21 Sept 2018)
---
CHARACTER PLAYS Edit
Disarm (1GB) || P Range || SUSTAINING
Target enemy model suffers -2 AC TAC.
Edit
Netted (2 / 1GB) || 4" Range
Target enemy model suffers the knocked down condition. Edit
CHARACTER TRAITS Edit
Guild Rule: Precise Calculations
This model may reroll any number of dice during its attacks and kicks.
Edit
Close Control
This model may ignore the first tackle playbook result that it suffers each turn.
Edit
Gladiator
When this model declares a counter-attack, it gains +1 DEF for the duration of the enemy attack.
Edit
Poised
Once per turn this model may declare a counter-attack without spending MP.
Edit
ARTICLES Edit
Community content is available under
CC-BY-SA
unless otherwise noted.