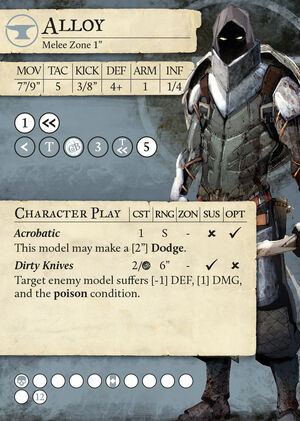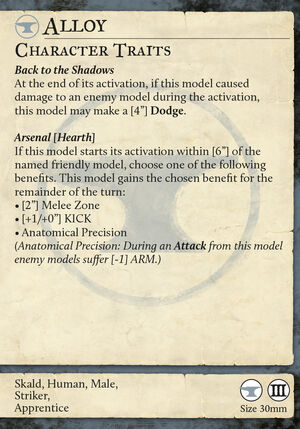 Alloy
Pre-Release : TBD
---
CHARACTER PLAYS Edit
Acrobatic (1) Self Range || OPT
This model may make a [2"] Dodge. Edit
Dirty Knives (2 / 1 GB) 6" Range || SUSTAINING
Target enemy model suffers [-1] DEF, [1] DMG, and the poison condition. Edit
CHARACTER TRAITS Edit
Back to the Shadows
At the end of its activation, if this model caused damage to an enemy model during the activation, this model may make a [4"] Dodge.
Edit
Arsenal [Hearth]
If this model starts its activation within [6"] of the named friendly model, choose one of the following benefits. This model gains the chosen benefit for the remainder of the turn:
Edit
[2"] Melee Zone
[+1/+0"] KICK
(Anatomical Precision: During an Attack from this model enemy models suffer [-1] ARM.)
ARTICLES Edit
The Blacksmith Guild: Apprentice Alloy
Community content is available under
CC-BY-SA
unless otherwise noted.